Wednesday, October 05, 2005
10,000 Visitors, Food Critics, and more Reptile Experts
A lot has been happening today so I have a lot to update.
First of all it is time to celebrate the 10,000 visitor to my blog. In honor of the 10,000 visit I'm posting my favorite baby photo of all time (see below). It shows me when I'm about 4 ft long and I'm acting mighty ferocious with a beautiful piece of raw meat in my mouth. I think it's quite impressive how I can have a large piece of food in my teeth and still smile. Thanks to all the supporters who haven't given up hope. Let's keep spreading the word!
Now to the real news, last night my sources revealed to me that someone else was going to come out and try catching me. I thought it was going to be the crocodile hunter or Jeff Corwin or something but the real scoop is that the LA Zoo has assigned some of its reptile experts to my case.
I guess they are going to team up with T-Bone now that he has supposedly found my "crawl". Did you see how Councilwoman Hahn described my house - a "depression in the plants where the alligator crawls in and out every day." To me it is much more than that, in my mind I live in a wonderful natural environment. My house isn't all about looks rather it is about comfort and a sense of family. My "crawl" is not my house, the whole park (and the whole city) is my home and everyone (besides wranglers) are part of my family.
Anyways, I guess these new reptile experts (weren't the other people experts too?) think they are going to get me. Combining them with T-Bone has me thinking that the city operates under the "two wrongs make a right" or the "two negatives equals a positive" philosophy. Here is an article from the San Diego Union. I kind of laid low today because I didn't know what to expect from these guys. I was really wanting to post a celebratory 10,000 visitor post this morning but I knew that for my survival I'd better wait until I knew the coast was clear.
Speaking of philosophy, I have been getting all kinds of questions from different folks asking me about everything from my love life (single), my political views (none), and my religion (no comment) but nobody has asked me about my philosophy on life. To be honest I can't explain what my philosophy is I sort of just deal with whatever each day delivers to me.
Also I feel honored that one of my favorite writers did an article about me in the LA Weekly. His name is Jonathan Gold and he usually writes about food (that's why I like him) but this time he took some time out to write about me. Thanks Mr. Gold, I'm glad that you didn't write about me in a food article (please don't eat alligator, I heard you can buy the meat at Hawaii Market in San Gabriel). The article talks about the Lake and the poor condition that it is in. I agree the lake is pretty dirty but Gators are known for having strong immune systems and I'm doing fine. Hopefully (I stated this before) I can help bring some attention to the cleanup of this lake and eventually to others in the LA area.
Keep the great emails coming to savereggie@gmail.com. Let's take this page to 20,000 visitors. Thanks for all the support.
Now remember you can get the Original Reggie gear at my
Online Store
. I also do custom sayings on any of the products if you are interested. Below is one of the most popular products lately: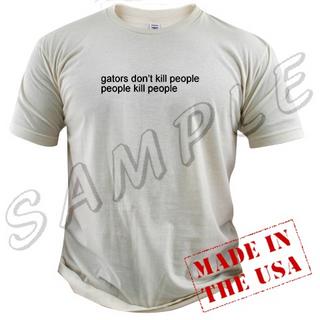 Reggie
posted by Reggie The Gator at 8:28 PM |
Permalink
|